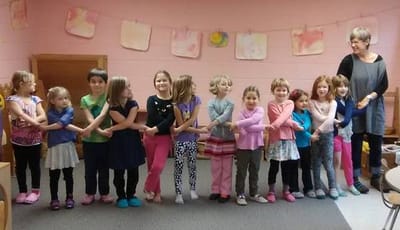 Our teachers demonstrate a strong respect for and love of children. It is our intention to create a nurturing and harmonious environment for all the children. We focus on teaching imaginatively through the arts as a way to enliven learning, and practice an intentional honoring of each child's physical and emotional needs, respecting that progress happens at the pace that is right for the individual child. We strive to foster authentic human experiences and to provide a space free of commercial images and media use during class time. We value open communication with parents to help us provide this environment.
At Lilac Children's Garden, you can expect that your child will:
Engage their minds and imaginations with stories from literature, myths, legends, and from folk and fairy tale traditions around the world, as well as with stories of historical figures and events that meet them where they are developmentally.
Engage their bodies in hand work and practical arts, as well as other immersive, creative, and artistic activities (sewing, felting, knitting, crochet, drawing, sculpting, carving, painting, cooking, building, etc.).
Engage their bodies while playing gym and outdoor games with their classes, as well as while playing clapping, rhythm, jump rope, and circle games.
Engage their hearts and imagination with music, singing and/or playing an instrument with their classes.
Engage their hearts with seasonal poetry, nature tables, and verses, and at community festival celebrations throughout the year.
End their year with the performance of a play.
At Lilac Children's Garden, your child (ideally) will remain with the same teacher from the time they leave the Willow class (our class for 5 and 6 year olds) until they graduate at age 13 or 14. This allows the teacher to better assess each student's development, needs, and learning style—and the students, feeling secure in this long-term relationship, are more comfortable in their learning environment. Each teacher has a great deal of autonomy and the freedom to respond to the students in front of them. The teacher will engage the students in the activities listed above, but each class will grow and develop along its own unique path based on the creativity and strengths of the teacher and the needs and strengths of the students.
BEGINNINGS AND GROWTH
Lilac Children's Garden was conceived by Rochester parents to bring the influence of Waldorf education to homeschooling families.
Lilac began providing programs in 1998 when a small group of parents familiarized themselves with Waldorf curriculum and became our first teachers. Through the years, we have attracted parents to join Lilac Children's Garden leadership and teaching. Many have come with a range of teaching experience in Waldorf education or other methods. Some have come with no educational experience at all, but have the willingness to grow and learn through independent study as well as formal training.
Through the years a cohesive community of current students and alumni has formed, many families having more than one child who has "gone all the way through" Lilac Children's Garden program. There is a noticeable connection and joy as families have formed strong, long-lasting relationships through the community, supporting one another generously through life's ups and downs.
WHAT IS WALDORF EDUCATION?
Waldorf education was pioneered by Austrian philosopher Rudolf Steiner in post-World War I Europe. Steiner stressed that children are spiritual as well as physical beings. Waldorf teachers strive to transform education into an art that educates the whole child—the heart and the hands, as well as the head. Child development in the Waldorf plan is age-specific. The decisions about the curriculum are based on what is happening in the child's physical and emotional development and also in the development of the child's consciousness. The Waldorf curriculum draws heavily from the wisdom of ancient cultures, and incorporates visual art, music, movement, and language arts, with a special emphasis on nature study into every aspect of the learning process. While no religion is taught in Waldorf schools, children are exposed to a variety of mythologies as well as the stories of great men and women throughout history.
IS LILAC CHILDREN'S GARDEN A PARENT CO-OP?
We do not strictly follow a parent co-op governance model. However, parental help and involvement are necessary to make our quality offering possible. Each year, LCG asks parents in the fall to commit to fulfilling at least one or two parent responsibilities (i.e., help during the plays with costumes or scenery, assist with the planning and production of our festivals, serve on the Board of Directors, etc.). Teachers also request parental assistance in the classroom and with set-up and/or clean-up on a rotating basis (three or four times a year, depending on class size).